Pastors & Wives, Staff, Elders & Deacons
John and Kirsten moved to Sitka in the summer of 2021 with their two teenage boys.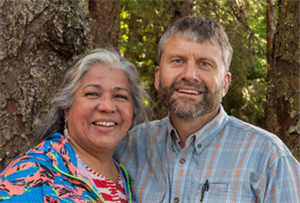 Stewart and Cass have made Sitka home since 1997, along with their five children. Their children are now grown and on their own.
Skip and his wife Wanda Tydingco have been in Sitka since 2010. Between them they have four children and six grandchildren.
Eileen moved to Sitka in 1983 after living in a logging camp in Portage Bay for 3 years. She has two grown children, who still make their homes in South East Alaska.
Candice and her husband Sam have made Sitka their home since 2005 and are raising three children.
Welcome Center Volunteers
The Welcome Center information center is equipped with two kiosks for parents to check in and print name badges for their infants, toddlers and preschoolers into Sunday School Classes. Sunday School Leaders also check in and have name badges.
Carolyn Frederickson and Eileen Chanquet